Losing Rodney Farms
Local conversations about Rodney Farms do not focus on what the farm is but rather what it once was; 250 acres of horse pasture dotted with over 80 Standardbred race horses, sprawling stables, all of which pulsed with energy and success. It was the home of legendary trotters, such as Duke Rodney, a champion in the 50's and early 60s and the farm's namesake. The farm in Scottsville, New York, is now a ghost of its former glory. The stables once housed 228 stalls, nearly all filled. Now only around 30 stalls can be used. The sky bubble that allowed the main stable to be bathed in natural light is now broken in many places, causing snow and rain to erode the interior.
Though the farm has become a skeleton of its past, a remaining few continue to attempt to breath the life back into it, the most dedicated being Barbara Galbraith. Galbraith, 64, daughter of the farm's founder, Patrick DiGennaro, inherited the farm at 22 after DiGennaro's unexpected death. Galbraith is a horsewoman; she still works 14-hour days on the farm, continuing with the only life she has ever known. She does chores ranging from the manual labor of cleaning horse stalls and stacking hay bales, to rounding up loose horses that have escaped through broken fence. Many factors have lead to the decline of the once thriving horse racing and breeding operation, including a deteriorated business partnership, economic downturn, decline in the popularity of harness racing, and a head injury that Galbraith's husband suffered in 2010 which lead to extensive medical bills. Galbraith notes her love of animals may have also lead to her current situation; "I get into trouble because my heart speaks stronger than the business side of my brain."
The farm was foreclosed on in 2011 and bought by a local farmer with adjacent property. He has been renting the land to Galbraith on a month-to-month contract, but has alerted her that is arrangement is to expire on June 30th,. Galbraith's intention is to move at least thirty of the fifty horses to a smaller acreage of property she still owns, which is a daunting task. The property must be cleared and the fences mended in order for the move to be possible and Galbraith has little monetary and labor resources to do so.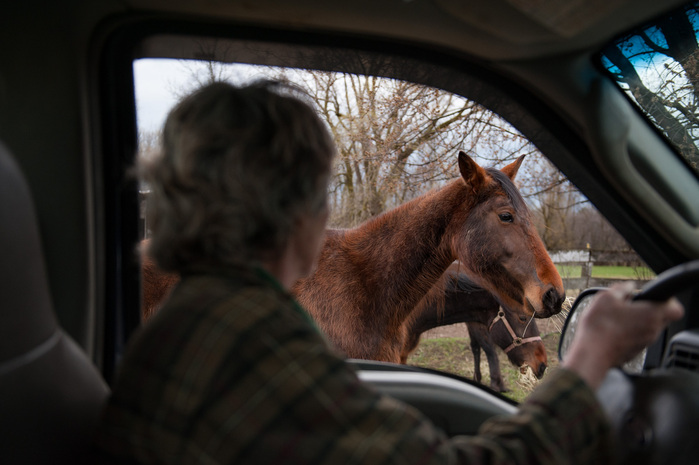 RiverNorth Kindergarten
Nestled in the Highland Park neighborhood in Rochester, New York, is the home of Christy Field. The house at 300 Mulberry Street is more than a residence; it is a space for children 4-6 to receive a unique education that is something more than the ABCs. Field teaches a Waldorf style kindergarten from her home, known as the RiverNorth Kindergarten. Currently she has 11 students whom she encourages to remain in their state of childhood wonder without forcing them to face adult concepts.The Waldorf education is rooted in the teachings of Austrian scientist and philosopher Ruldolph Steiner, which encouraged such learning through imitation through the use of tactile learning involving activities like free play, fine arts, handwork, and nature hikes. Field incorporates all of these activities into her curriculum. The children do woodworking, bread baking, and watercolor painting, go for hikes in Highland Park, climb, roll down hills, and dig in the garden. An important aspect of the school is the emphasis that is placed on letting the children interact more with each other and less with adults. Ms. Field noted, "If a child falls and you pick them up every time, they'll be afraid to pick themselves up. We want to encourage them to pick themselves up and to look more to each other for help rather than us [herself and her assistant]." Upon entering RiverNorth, one is stepping into world that is only limited by the imagination of the students.